Our Capabilities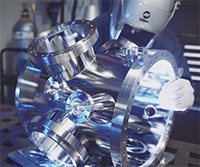 Although Nor-Cal Products is a premier source for over 6000 standard high and ultra-high vacuum system components, a significant portion of our business involves the design and fabrication of highly-configured custom chambers, weldments, assemblies, and modified standards. We know that even the smallest component can be critical to the integrity of an application or vacuum system, therefore, we performance engineer quality into every component we manufacture. Our strong in-house capabilities support the quality of our components and services in a variety of areas.
Watch our corporate video below and download our catalog or capabilities brochure for a good look at what makes us your best partner for vacuum components and custom vacuum design. 
Nor-Cal Products Catalog in PDF format
Nor-Cal Products Capabilities Brochure in PDF Format
Thank you for your patronage!