Company Announcement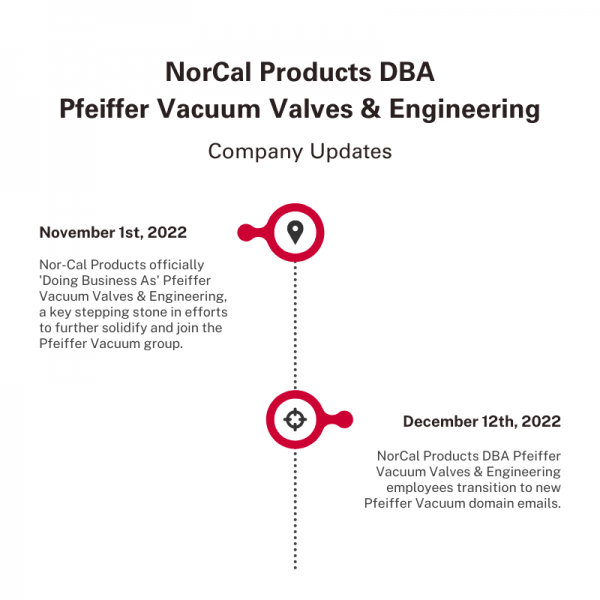 Dear Customers, Suppliers, and Colleagues, 
Five years ago, Nor-Cal Products was acquired by Pfeiffer Vacuum which launched a new phase of the company's growth. Although we have faced some unique challenges in the last years, including the unprecedented COVID pandemic and ongoing disruption to the global supply chain, we have successfully managed to continue to grow our business in close collaboration with our valued customers, suppliers, and community. We are thrilled to announce our next major step towards completing the integration of Nor-Cal Products with the Pfeiffer Vacuum Group. 
We are happy to announce that 
beginning November 1, 2022, Nor-Cal Products will begin doing business as Pfeiffer Vacuum Valves & Engineering, or PV V&E.
 This means our customers, suppliers, and community will experience stronger support through our unification with the Pfeiffer Vacuum brand. 
Rebranding to PV V&E allows our Yreka facility to build a stronger synergy with the rest of the Pfeiffer Vacuum group. We will be stronger together as we continue making progress in executing our strategic business plan and continuing to invest in the Yreka site to better serve our customers. This is our highest priority. 
In the coming weeks, you will receive further information regarding changes that may impact your interactions with Pfeiffer Vacuum Valves & Engineering. We deeply appreciate your business and continuing to maintain a close partnership with us. We look forward to building an even stronger business relationship with you as we move forward through this milestone. 
Sincerely,
Bryan Strait
General Manager
Nor-Cal Products / Pfeiffer Vacuum Valves & Engineering